NEW YORK – Daddy Yankee said goodbye to New York City on Tuesday with a Latin party in style: a two-hour concert that condensed the history of reggaeton, from his classic "Gasolina" to songs from his latest album "Legendaddy."
The "King of Reggaeton" transformed Madison Square Garden into a lively nightclub with ultra-low resolution mega-screens, torches, lasers and a group of tireless dancers who non-stop "twerked" across a two-story stage.
Amidst the cheers of a sold-out 20,000-capacity room, the Yankee made his triumphant walk pretending to step off a plane, decked out in a gold sequined jacket and sunglasses, and debuted his retirement tag, "Champion. ".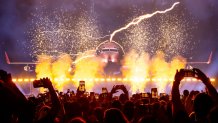 For the Puerto Rican singer, who described himself as "a man of few words and much action," this stop on his "Last Return" tour held special significance, as it closed the first US leg of his comeback. to city key to city type.
"When this movement was activated, it was an immediate response in the Dominican Republic and Puerto Rico, and the first city we had a quick impact since the 1990s started was here in New York," he said, admitting to feeling "shocked." of feelings."
With his catchy, sexual and witty lyrics, Yankee gave his many educated fans the songs that have played on summer nights for the past two decades, such as "Rompe", "Lo que pasa" and "Ella me levanto" and more. recent where "Despacito" was not missing.
With typical reggaeton bravado, he announced that he was going to sing "the song of the decade" and confessed that he was proud to have fulfilled one of his aspirations as a "little boy": "If we can sing great songs in other languages, why can't didn't we sing them in spanish?"
After the first guitar chords, the singer Luis Fonsi, who accompanies him in the song that marked the before and after reception of Latin music in the United States, appeared almost on the screen and joined the group of stars he has worked with.
Thus, "Big Boss" shared the spotlight with other pioneers of the genre who were shown performing songs such as "Mami, don't leave me alone", with Wisin and Yandel; "Your Prince", featuring Zion and Lennox; "Dance Dance Dance" featuring Ozuna; "La santa" with Bad Bunny or "Agua" with Rauw Alejandro.
In a very physical performance, as required by reggaeton and its lyrical content, Yankee used the breaks so that the dancers showed "twerking" moves with short costumes, while the dancers, wearing covered clothes, were disguised with huge heads.
The big heads fluttered near a giant inflatable doll made in the singer's image that stood on stage during the final songs, adding a gorgeous visual that dazzled the audience at times who were more concerned with recording on their mobile phones than dancing.
But as expected, the veteran artist, after 34 years of experience, knew what the final fireworks of his performance must be: "The song that changed music forever, that went viral without social networks, the song that made the world reggaeton", he went forward.
If there were any doubts, he added: "it's expensive!" Before the bass of "Gasolina" completely transformed the arena and an incendiary staging, with fire and gas cylinders, brought a loyal audience to their feet, leaving their voices begging for more, as the chorus of this 2004 hit said.
Yankee took a glitter shower and thanked the Latinos for their "support from day one," who showed up in droves to say goodbye with T-shirts and national flags and roared every time their idols mentioned their countries.
One of them was Jóhanna, a New York fan of Puerto Rican descent who was encouraged to go alone after buying a ticket at the last minute and sang all the songs: "It was the last chance," the woman added, describing the general feeling. of the event.